State & Federal Justice Departments in lock-step, protecting cops from investigation.
Oregon was created as a white homeland. More pioneers voted for 'exclusion laws' … to lash Blacks found in the state past sundown … than voted for the inaugural State Constitution. There's a set of priorities for you.
"In 1922, Klansmen won election to local and county offices throughout Oregon, and some Klansmen won seats in the state legislature. The Klan helped elect LaGrande Democrat Walter M. Pierce as governor …" informs the Oregon Historical Society.
In the interim, railroad and timber barons amassed wealth sufficient to bind our (still) part-time legislature to its bidding.
Portland has just elected a multi-millionaire scion to a timber fortune as it's Mayor. In yesterday's post, I describe long-sought elimination of keystone policy in local law enforcement's self-exoneration scheme. It kicks in following police homicide. In a bureau that, by any independent assessment, delivers racial disparity in enforcement … including use of lethal force.
In 2012, after Portland's African American faith community repeatedly pleaded for investigation, the US Department of Justice, Civil Rights Division, found the City engages in "a pattern or practice of using excessive force" when policing. In a 2012 plea deal, Federal investigators demanded local government stop bargaining for a '48-hour rule' in police union contracting. This waiting period, before killer cops are required to depict their actions, is contrary to best crime-solving practice. It interferes with prompt public safety disclosure and supports a "special rights" tier for police interrogation that the public cannot enjoy.
At a cost of nearly $10,000,000 in bounties and pay raises, the City last year negotiated for the waiting period's enabling language to be eliminated.
In March of this year, our county District Attorney issued his opinion that such after-action reports would be 'compelled.' And require his office to grant immunity to officers who carried out those work responsibilities. His decision is that officers – only when committing homicide – should not be asked to describe their actions until, effectively, his grand jury proceedings absolve them. A much longer delay, and totally at his discretion. (While the DoJ looks on, it's taking about forty days to complete that part of local law enforcement's exoneration scheme.)
US Attorney General Jefferson Beauregard Sessions III in April ordered DoJ officials to 'review' reform agreements overseeing troubled police forces like Portland's. Justice advocates wonder whether this is Jim Crow language for 'stop enforcing' those court-sanctioned police reforms.
And now the US Attorney for Oregon helps walk back the plea deal provision demanding cops' waiting period be terminated. (His predecessor having been fired, for failing to comply with Federal investigation into her own misconduct.) Says Billy J. Williams: "I think it's very important to understand that DAs have to comply with the realities of Oregon law."
He is not saying, "For too long has lynching been condoned by hick state legislatures, in the thrall of elite white supremacists." Our mighty Federal authority does not offer opinion that counters a remote, county DA's assertion; that the Oregon Supreme Court decided in 1984 that local law enforcement lacks integrity to both collect immediate intelligence and 'wall off' evidence that could later be used in criminal investigation. "It is unrealistic to give a dog a bone and to expect him not to chew on it," ruled the Court. "We hold that … the Oregon Constitution forbids giving the dog the bone," by collecting evidence of possible wrongdoing. Williams does not counter-argue that equal application is a core tenet in western law. And therefore superior.
Portland cops wanted assurance that video from body-worn cameras will be exempt from open records disclosure. So that no one – not even police trainers or the Bureau's psych evaluators – are allowed to randomly review public records made by public employees in their public service. Portland's then-Mayor rushed to our Democratic legislature to change state law. Media requests will not be as for dash cam video: access to evidence of officer's job performance is now to be a state secret.
Williams could have said, "The right to be secure in your persons is paramount. The US Department of Justice will now press upon the Oregon legislature to establish law designed to curtail summary execution by law enforcement."
No. Assertion of human rights will be left to member-funded, volunteer-based organizations like the Albina Ministerial Alliance Coalition for Justice and Police Reform. African Americans, historically set aside and perennially on the downside of power in Oregon, will assert civil rights we should all enjoy as fruits of the American Revolution. And they will be up against a well-financed, ultra-sophisticated law enforcement lobby … that, every day our legislature is in session, bends lawmaker's ears when it's not glad-handing campaign cash recipients.
Even before it was made public, an Oregon Assistant Attorney General reviewed the DA's new position on suppression of evidence gathering. And promptly pronounced, "From our perspective, it is correct."
Oregon voters and lawmakers persistently refused to ratify the US Constitution's 14th and 15th Amendments, the latter not ultimately acceded to until 1973. Other racist language was finally removed from our State Constitution in 2002. Years after that Supreme Court decision. Given the state's historical preference for bullwhips over codified law; it will be a struggle to bring the Oregon Department of Justice into multi-jurisdictional remedy for policing that falls short of national best practices.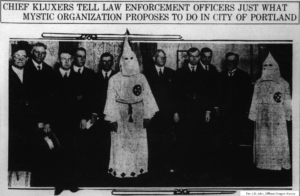 Astonishingly, the US District Attorney for Oregon, Multnomah County District Attorney and Sheriff, Chief of Portland Police and his Captain, once stood shoulder-to-shoulder with our Mayor (above) … and the Portland Klan Chapter's 'Exalted Cyclops' and 'King Kleagle.'
Now, before you think this is all "ancient history," consider: by census data, Portland, Oregon is considered the whitest city of it's size in the nation. A 2009 Police Plan to Address Racial Profiling passed by City ordinance … and the law went ignored after field officers balked. Never, "in the history of mankind," has taking a compelled statement from a police officer jeopardized a criminal investigation, testified Michael Gennaco last year.
(A nationally recognized expert on police accountability and law enforcement reform, then in the City of Portland's employ.) And yet our 'justice' apparatus – at all levels of authority – circles the wagons. It is somehow vital that a local PD's internal and opaque investigation not timely review an officer's lethal conduct.