Hold egalitarianism in your mind. Fairer equality of opportunity was a central demand by revolutionary American colonials.
Now consider pending Federal Communication Commission deregulation of your access to broadband Internet. The FCC's Restoring Internet Freedom ruling, released the day before Thanksgiving, will permit Internet Service Providers (ISPs) to block or slow access to websites, or speed service for business partners.
Spending power will dictate your access to information. The wealthy will have greater access to higher quality data. Information will arrive to them before you get it. (Very handy for Wall Street investors.)
Thomas Jefferson equated knowledge with power, safety, and happiness. AT&T VP Joan Marsh "emphasizes private investment and innovation over lumbering government intervention."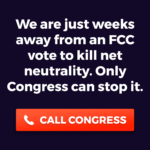 Holding a three-to-two majority, Republicans are expected to pass the rule change on 14 December. See Fight for the Future: they model an excellent, online campaign. Battle for the net (right) offers engagement with Congressional business partners.  Local, direct action is planned to roll out across the US.
Corporate/government collusion is in play.
Let me roll back to AT&T. (Whom Sessions' DoJ seeks to block from acquiring AOL Time Warner.) Remember promised infrastructure projects?  AT&T has been selected to build and manage FirstNet, "the first broadband network dedicated to America's police, firefighters and emergency medical services." You say "first responders," I say "surveillance state pipeline." The $180,000,000,000 project is to enable advanced capabilities, "like wearable sensors and cameras for police and firefighters, and camera-equipped drones and robots that can deliver near real-time images of events, such as … crimes." Touted as a "public-private partnership," The People will never participate, generally, in this clandestine and tremendously costly information flow.
Subterfuge is afoot.
On robots: as ISPs battle with the needs of Amazon, Google, Reddit, Wikipedia – and aspirations of entrepreneurs who'll never get onto an uneven playing field – be aware of an open letter from New York State Attorney General Eric T. Schneiderman. During the FCC's summer, public comment period over this issue, only 17.4% of twenty-two million responses came from real people. Analysis found "a bulk of the fake anti–net neutrality comments were submitted by bots." It's difficult to find egalitarianism, when your testimony must compete with machine-generated influence.
Schneiderman's office contacted the FCC nine times over the last six months, "requesting help in investigating the identity theft, and received no response." (Italics mine.) Compare with FCC Chair Ajit Pai's contention, that the Federal Trade Commission will be responsive, protecting consumers and small business from reported abuses, once rules are relaxed. "That's not clear," says Wired.
This New York Times video gave me pause. (More, in conclusion.)
One takeaway, following 2009 courtship by Chinese communists, and my visit to a Lifan manufacturing site there, was suspicion that a new paradigm is emerging. I call it 'authoritarian capitalism.' I urge you to consider the WeChat 'super-app' described, beside the pending AT&T/Comcast merger with AOL Time Warner … and consolidation of content providers generally.
At 4:40, the video describes an all-pervasive Chinese app's ability to collect "a staggering volume of personal data." This no doubt delights advertisers. As one who holds privacy as a keystone to revolutionary Founders' intention … sovereign power is to reside among The People … I am troubled by the prospect that deeply personal data will flow through FirstNet to inform the security state. (See 'Behind the City's Terrorism Task Force Stands a TITAN Fusion Center' for the receiving end of your personal data.)
Further reading: Net Neutrality: What You Need to Know Now calls attention mainstream media's historical racial impact: "Thanks to systemic racism, economic inequality and runaway media consolidation, people of color own just a handful of broadcast stations." Lack of diverse ownership "is a primary reason why the media have gotten away with criminalizing and otherwise stereotyping communities of color," who have long been misrepresented, ignored and outright harmed. An open internet allows people of color to tell their own stories and organize for racial and social justice.
#NetNeutrality
Join the Resistance

Happy Thanksgiving Eve! Have you called your congressional reprsentatives yet to tell them why we need #NetNeutrality #SaveNetNeutrality https://t.co/edAOIrEi2R pic.twitter.com/KAjFeN9VGL

— ACLU (@ACLU) November 22, 2017