"The time is ripe for Portland to be part of a national movement to protect residents and citizens from further potential civil liberties abuses," declares a press release, signed by twenty community organizations (and listed below).
Led by the American Civil Liberties Union of Oregon, justice advocates yesterday demanded local authorities cancel their Memorandum of Understanding (MoU) with the Federal Bureau of Investigation.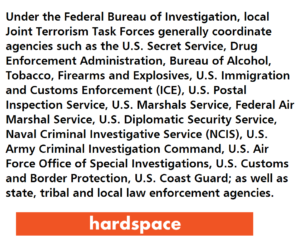 At issue is local participation in an FBI Joint Terrorism Task Force. Local JTTFs practice domestic surveillance, including electronic monitoring. Cells develop sources, investigate, and then share intelligence products among law enforcement and homeland security agencies.
Signatories called on our City Council to withdraw Portland Police Bureau officers currently authorized for full-time participation in the surveillance network. "After Portland re-joined the JTTF fully in 2015, the public stopped receiving annual reports, so there has been no indication whether PPB officers have reported violations of provisions of ORS 181A.250, which prohibits law enforcement from collecting or maintaining information on people's "political, religious or social" affiliations without reasonable suspicion of criminal conduct," declared advocates. As is custom with PPB, city administrators carry out no effective oversight: to my knowledge, none of Portland's mayors, city attorneys or chiefs of police have been deemed eligible for the FBI's Top Secret Sensitive Compartmented Information Security Clearance necessary to receive substantive report on JTTF activity.
In 2011, as local government edged back into cooperation with our JTTF, Portland's Human Rights Commission held a public hearing and gave analysis. They were concerned by "loss of local control and oversight of police officers who become deputized." HRC shared concern raised by the nation's Office of the Inspector General, "regarding FBI surveillance practices, information retention, the provision of inaccurate and misleading information, which point to breaches of authority at the Federal level."
Bargaining with the devil.
Portland's 2015 MoU begins, "It is the policy of the City simultaneously to help prevent and investigate acts of terrorism [and] protect civil rights and civil liberties under United States and Oregon law." Given historical secrecy around local policing, and renewed unwillingness to permit civilian oversight, it's difficult to thread that needle.
Following non-disclosure provisions, the MoU calls for the City Attorney to "determine in writing" whether the Oregon Attorney General (ORAG) believes PPB officers are "precluded from legally working" with JTTF. Each January. Paper policy states "PPB officers assigned to the JTTF shall attend annual training, to be conducted by the Office of the City Attorney, to ensure compliance with applicable state and federal law."
The ACLU of Northern California in 2011 compared intelligence standards, between the FBI, their state constitution and San Francisco PD. For case assessment, FBI surveillance and use of informants requires no "particular factual predication." The California Constitution, backed by subsequent Supreme Court ruling, requires "articulable criminal predicate" for all intelligence activity. Paper police policy provides any investigative activity or information-gathering involving any First Amendment activity must be based on "articulable and reasonable suspicion" of "significant criminal activity" (i.e. more than mere non-violent, non-destructive acts of civil disobedience).
Notedly, Portland's HRC that year pointed out that the U.S. Attorney General (USAG) establishes legal parameters for FBI operations. "Since September 11, 2001, these guidelines have been revised to expand FBI functions, granting greater permissions and flexibility to the FBI for surveillance and investigation activities. New guidelines have loosened previous restrictions, allowing greater agency discretion and permitting intrusions that erode civil liberties in the interest of protecting national security."
It is an arc that Portland justice advocates followed yesterday: "President Trump has made it clear he plans to target people based on their religion (Muslims), national origin (immigrants), and political beliefs (protesters), not to mention the media …" Recently revised FBI policy arrives from USAG Jefferson Beauregard Sessions, who earlier this year colluded with our current Mayor, to subvert an Obama-era, Federal plea deal for community-based oversight of reform for unconstitutional police conduct .
I leave it to the reader to decide whether FBI culture, and a clandestine environment, is likely to predominate over unreformed PPB officers in their employ.
Today's press conference included remarks by Brandon Mayfield, an Oregon Muslim and former Army lieutenant, held incommunicado for two weeks by the FBI without charge. Under the U.S. Patriot Act, agents entered his home without his knowledge, and perhaps not even a warrant. During a later raid, FBI agents took Mayfield's computers, modem, safe deposit key … as well as his copy of the Quran. Mayfield, also a lawyer, took an FBI apology and $2,000,000 settlement when a U.S. District Judge dismissed the case; based on flawed FBI investigation. Oregon's U.S. Attorney "denied Mayfield had been a target because of his religion and maintained that the FBI had followed all laws in the case."
Flexibility in FBI targeting and surveillance is expansive as well. "The FBI considers Ecco Terrorism (sic) one of the domestic terrorism problems in the United States," says an FBI official. From the FBI's Portland office, our JTTF investigated direct action at a logging company, indicting four environmentalists in 2002.
Justice advocates are asked to take action: Petition Portland City Council to withdraw from the JTTF. The language pulls back the curtain from progressive assumption ours is a 'Sanctuary City.' "The FBI and ICE, the biggest players in the Joint Terrorism Task Force, regularly engage in profiling and surveillance that is prohibited under Oregon law," reads the petition's preamble. In fact, the concluding purpose defined in the MoU reads, "WHEREAS, the PPB currently has multiple successful and on-going criminal investigatory collaborations with the FBI, including … the Metro Gang Task Force." Those familiar with the 'school-to-prison pipeline' will recognize this outfit: anti-'gang' law enforcement contributes to racial disparity in our criminal justice system; without articulating race at all.

Those who pursue civil liberty must also take into account the TITAN Fusion Center operating at Salem, Oregon.
The  U.S. Department of Homeland Security admits to 78 of these sites, nationally (see map, here): field-based information sharing organizations "receive, analyze, gather, produce, and disseminate a broad array of threat-related information and actionable intelligence to appropriate law enforcement and homeland security agencies." The Electronic Frontier Foundation asserts Fusion Centers record and share information about First-Amendment-protected activities, "in a way that aids repressive police activity and chills freedom of association."
Combined effort by Massachusetts chapters of ACLU and National Lawyers Guild were able to demonstrate, "Officers monitor demonstrations, track the beliefs and internal dynamics of activist groups, and document this information with misleading criminal labels in searchable and possibly widely-shared electronic reports." FOIA documents included intelligence reports addressing issues such as internal group discussions and protest planning, and showed evidence of police contact. EFF is concerned by "examples of racially biased informational bulletins coming from fusion centers."
Five TITAN Center employees are funded by Oregon's legislature: $1,300,000 is budgeted for the 2015-2017 biennia. Three known staffers are paid via grants and "outside sources." One Criminal Intelligence Analyst has been funded by the City of Portland. Several TITAN analysts used online spy software throughout October 2015 … searching the web for posts containing "Animal Liberation Front," "#BlackLivesMatter," and other subjects; the latter to identify 'threats to policing' on social media. Without probable cause for criminal activity, state employees monitored posts concerning "protests" at the state capitol … which can as easily be described as constitutionally protected "free assembly" and as democratic "petition for redress of grievances."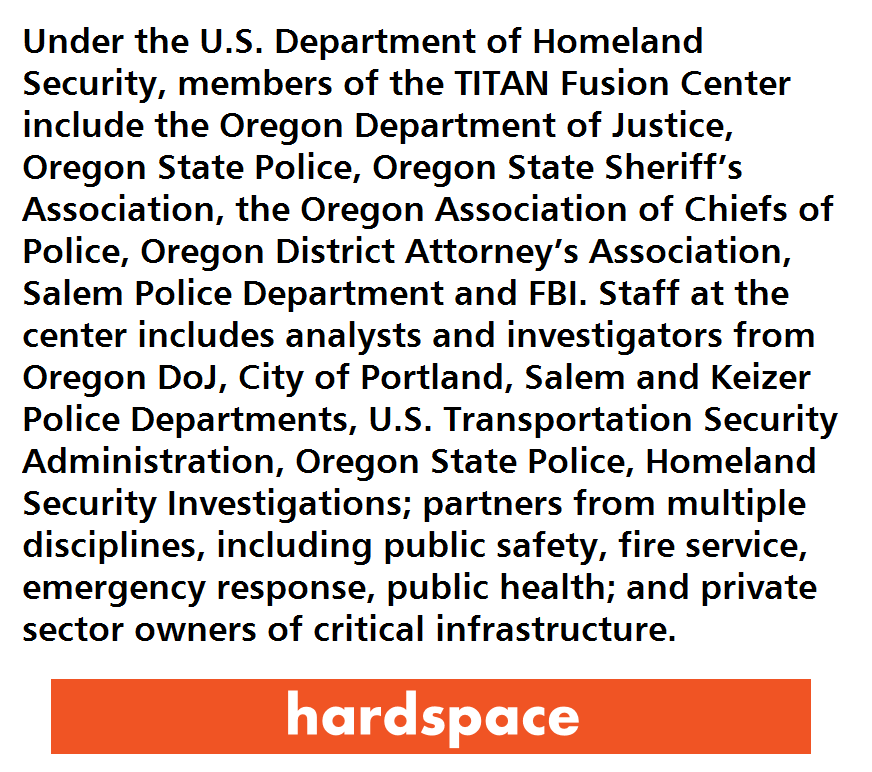 Between July 2014 and June 2016, the TITAN Fusion Center conducted 31 terrorism intake reports of suspicious activity, created 312 intelligence profiles, issued 1,903 intelligence publications, and provided 509 photographs.
While failure in her oath to protect privacy rights falls to ORAG Ellen Rosenblum*, the TITAN Center operates by Governor Kate Brown's assent. She's budgeted staffing positions as far out as 2021. Quantifying Results? The state's "Criminal Justice Division maintains a searchable database to manage cases and track outcomes." I suspect these public records are off limits … in government by the people, for the people.
Following the ACLU's current effort, to prod the City of Portland to disestablish relationship with the JTTF, long-term strategy might be to restore civil rights protections at the TITAN Center.
Truly progressive policing is at hand.
In 2003, the Police Executive Research Forum (PERF) and US DoJ Office of Community Oriented Policing Services reported on the Long Beach, California JTTF: "In addition to the two assigned officers, South Bay departments provide the JTTF with other needed resources. In particular, the local agencies routinely provide surveillance teams to the JTTF and on other occasions have provided SWAT teams and overtime pay to facilitate investigations." Of course, Portlanders know nothing about any collateral assignments.
A decade after the above report, the US DoJ Civil Rights Division took interest in a case to remedy NYPD stop-and-frisk: "Officers can only police safely and effectively if they maintain the trust and cooperation of the communities within which they work, but the public's trust and willingness to cooperate with the police are damaged when officers routinely fail to respect the rule of law." "As systematic violations of civil rights erode public trust, policing becomes more difficult, less safe, and less effective." (Italics mine.)
In 2014, months before Michael Brown's police homicide, academics and scientists at PERF addressed perceived need for police legitimacy.  "People react to evidence that the authorities with whom they are dealing are neutral. This involves officers making decisions based upon consistently applied legal principles …" "Transparency and openness about what the rules and procedures are, and how decisions are being made, facilitates the belief that decision-making procedures are neutral." (Italics mine.)
"Community policing is not just about the behavior and tactics of police; it is also about the civic engagement and capacity of communities to improve their own neighborhoods, their quality of life, and their sense of safety and well-being," declared Obama's Task Force on 21st Century Policing the following year. 
That task force made Community Policing and Crime Reduction a pillar for new focus. It described "formal community/citizen advisory committees to assist in developing … agency policies as well as provide input on policing issues." Civic engagement extended to participation in police training.
Should protection from civil rights abuses receive political backing in Portland, the community is fortunate … Obama's 2015 Task Force produced an Implementation Guide. This Federal effort calls on local government to "Define the terms of civilian oversight to meet the community's needs." It directs the community to "Call on state legislators to ensure that the legal framework does not impede accountability for law enforcement."

*For further reading:
Lured To a Digital Stakeout depicts the Oregon DoJ online dragnet, and the AG's self-exoneration.
Read Black Identity Extremists' and the Dark Side of the FBI for The Marshall Project's report on the FBI's most recent effort to criminalize black activism, "by labeling it a danger to public safety and national security." Links to reporting on Department of Homeland Security targeting #BlackLivesMatter.
NOTE: This 2010 Washington Post project suggests dozens of agencies not depicted in the above graphic of agencies colluding in JTTF.
For policy wonks, the DoJ is – on an ongoing basis – breaking links to their own documents. You might be interested in this boilerplate Portland MoU from 2015. It describes who gets forfeited civil assets. Financial and civil liability for acts and omissions of each employee detailed to the JTTF "remains vested with his or her employing agency." This working MoU from 2000 covers handling informants. It names Portland JTTF officers: Lt. Randy Kane, Sgt. Dave Famous, and Officers Karl Sprague, Dan Liu,  Matthew McDonald, Richard Miller and Anne Fredrickson. Part-time officers from Beaverton and Eugene Police Departments and an Oregon State Police Detective are identified. No Top Secret Clearance was required; personnel were merely deputized.