The Arizona Republic reported in September 2016 that, since Sheriff Joseph Michael Arpaio first took office in 1993, his antics had cost taxpayers $142,000,000 in legal fees, settlements and court awards. The Maricopa County Board of Supervisors then approved nearly $4,500,000 more in legal fees as a result of Arpaio's contempt for a Federal court. "The three largest checks will be cut to: Covington & Burling ($2.6 million), American Civil Liberties Union's Immigrants' Rights Project ($1 million) and American Civil Liberties Union-Arizona ($409,000)."
US President Donald John Trump's pardon of Arpaio might remind us of the localized time, expense and evasion of justice involved in compensating for civil rights violators in uniform. Portland, Oregon has its own history of making errant cops whole. Our perpetrators, however, have not aged out of capacity to induce mayhem.
Portland dissent against American-led military aggression in Iraq coalesced in March 2003. Portland police (PPB) rioted, as they had in August 2002, during opposition to local fundraising by US President George Walker Bush. Victims, including a KATU-TV engineer, were represented by attorney Alan Stuart Graf and the local Chapter of the National Lawyers Guild, who promptly filed federal lawsuits against the City, its Mayor, Police Chief, and two serving officers. Among the charges: a "pattern of civil-rights violations by Portland cops."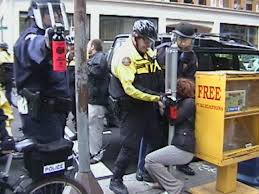 Portland Indymedia copwatchers (right) provided evidence of a chemical weapons assault on Miranda May. The "most disturbing clip shows police pepper-spraying people who are protesting legally, and seemingly peacefully, on the sidewalk at Southwest 2nd Avenue and Washington Street," reported Francesca Monga.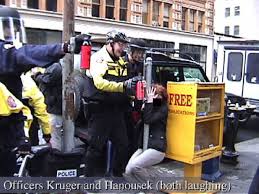 "A young, red-headed woman crouches with her arms around a signpost, looking terrified. Two policemen, Sgt. Mark Kruger and Officer Joe Hanousek, point their spray cans at her from several different angles." After which, Kruger appeared to laugh about the attack with a fellow officer. This may sound familiar: "The mayor's office responded by claiming that the photographs were fake, that the incident did not happen," reported Indymedia in 2003.
In August 2002, local mainstream media had "caught Kruger pepper-spraying Channel 12 camerawoman Beth English point-blank in the face, sending her to the hospital," reported Nick Budnick in 2004. According to an affidavit filed by Kruger's long-time friend, "Kruger laughed about that spraying, saying he would probably never be identified." In March 2003, The Oregonian photographed Kruger grabbing a young female protester by the face after she allegedly cursed him. Childhood friend Robert Seaver (formerly Seaburg, and an aide in the Multnomah County DA's office) asserted that Kruger said he "planned to order a copy of the photo so he could frame it." Authorities promoted Kruger to Lieutenant in July 2004.
Prompted by Seaver, Graf requested evidence, as to whether Kruger was a Nazi sympathizer. In August 2004, US District Court Chief Judge Ancer Lee Haggerty ordered "defendants need not produce additional materials … as they were not likely to lead to the discovery of admissible evidence." Haggerty's decision allowed then-Deputy Portland City Attorney Tracey Pool Reeve to withhold five elements of an 'Ehrenbaum' or 'Honor Tree,' each memorializing a Nazi military officer. Awaiting trial, Kruger had retrieved his construct from public space fronting an interstate highway: he then placed them in a public employee's safekeeping. One plaque stored in City Hall honored Waffen SS-Obersturmfuhrer Michael Wittman, convicted of war crimes. Wehrmacht leader Harald von Hirschfeld was killed before standing trial for massacring thousands.
In 2004, complainants against PPB received $845,000 in City settlements. Protesters had by then filed numerous civil cases: neither the police bureau – nor any local authority supposedly responsible for their oversight – concluded any officer discipline was called for. US Attorney for Oregon (and Bush political appointee) Michael Wise Mosman, alerted to Seaver's affidavit by Graf's legal team, declined to investigate.
"I know the whole questions (sic) of the plaques was out there," said City Attorney Linda Meng in 2010. "The [police] bureau was aware of it." Kruger was by then back in the news. He had in 2008 been promoted to Captain, fourth-from-the-top in police command. Seaver filed a formal complaint in October 2009. "During the course of the police investigation, Internal Affairs investigator Mike Barkley learned the city attorney's office had stashed away the plaques in a litigation file for at least six years," reported Maxine Bernstein.
A PPB Commander in Chief Michael Reese's Performance Review Board (PRB) found in October 2010 that Kruger (in Nazi attire, left) brought "discredit and disgrace upon the Bureau and the City."
Kruger was, in November, ordered to take two weeks of unpaid leave, attend Tools for Tolerance training, and participate in an unspecified mentor relationship for up to two years. By his discipline letter to Kruger, Reese expected Kruger never to engage in conduct that "denigrates others or their differences," either on- or off-duty. (Read Kruger's apology here.) Technically, Kruger had been disciplined for defacing public property; not for conspiring to hide evidence, nor for White supremacist belief.
"I can't talk at this time about privileged attorney-client communications," said Reeve in December: a civil servant, in public performance of her job, of legitimizing another public employee. After adjudication. The Oregon State Bar in 2011 refused to take action against Reeve.
Police command staff restored Kruger's credit within the City. Assistant Chief Lawrence P. O'Dea III asked him to develop a police leadership training course in the Spring of 2012. Kruger "made the Bureau's response to tactical incidents and people in crisis better and safer," said O'Dea, adding his class had received "excellent peer reviews."
Kruger's Tools for Tolerance training may have worn off. Lieutenant Kristy Galvan, while in PPB's Internal Affairs Unit, had approved the 2010 findings critical of Kruger. She was in September 2011 placed under Kruger's command. Galvan complained of nine months in a hostile work environment. In July 2012 she filed a workplace harassment and gender-based discrimination complaint against Kruger with the City's Bureau of Human Resources (BHR). Kruger's lawyer responded, "Kruger has spent his entire adult life placing himself in harms (sic) way to protect the US Constitution, the Oregon Constitution and the citizens of Portland."
In January 2013, Kruger released emails Galvan had used to assert her complaint. Banter with the PPB Director of Services, aimed to jolly Galvan along through her tough times, mocked Kruger for Nazi proclivities. Kruger filed suit against the City for "libel and slander, breach of contract and intentional infliction of emotional distress" over documents he had made public. Galvan the following month countered with legal action against Kruger and the City. For "extreme emotional distress, humiliation, loss of esteem, impairment of reputation and exacerbation of existing medical conditions."
Galvan was promptly demoted to Sergeant. She went on disability leave in 2013 and filed complaint with Oregon's Bureau of Labor and Industries. Kruger was put in charge of the Drugs and Vice Division. In July 2014 the City settled with Galvan for $50,000; the 16-year veteran retired, eligible for her pension. No more is known of the state-level BOLI complaint.
Then-Mayor Charles Andrew Hales, not having the power of pardon, gave Kruger his version of the Arpaio treatment.
With language mirroring that avoiding all culpability in the City's 2012 plea deal with the Feds, to reform cops' illegal use of force, a June 2014 Settlement Agreement with Kruger begins: "The City denies the validity of all pending and potential claims asserted." Hales nevertheless went on to order that all discipline letters concerning Kruger be removed from City records at PPB & BHR, that eighty hours be credited to Kruger's 'vacation bank,' and that he receive $5,000. Further, in a rewrite of history, Chief Reese was ordered to replicate a letter containing specific wording. Language included, "Your skills and talents … and ability to connect with the community are outstanding."
Kruger then became an agent of internal chaos. And the City benefitted from their redemption of and investment in him.
In December 2015, Kruger asserted his undercover officer Scott Groshong should not be investigated for grabbing the camera of Portland copwatcher Robert West. Acting Assistant Chief George Burke countered: "PPB cannot simply refuse to ignore such a complaint" (sic) and the matter was taken before PRB. Which in January 2016 dutifully found acolyte Groshong had acted professionally.
A schism broke out in the City's police exoneration scheme. In February, Constantin Severe, Director of the City Auditor's 'Independent' Police Review Division (IPR), declared "[Groshong's] superior officer Captain Mark Kruger behaved in a manner akin to defense counsel for the officer as opposed to neutral factfinder. Even more disturbing was Captain Kruger's description of the Internal Affairs investigation as "pettifogging" and not worthy of an administrative investigation. Captain Kruger's behavior at the Police Review Board was hostile and combative. Captain Kruger was disrespectful to Internal Affairs and openly disdainful towards IPR." Chief Reese's admonition against denigration no longer had binding force.
It's an intolerant attitude many have taken from Kruger, while pursuing police accountability.
West appealed the Chief's exoneration of Groshong to the City's Citizen Review Committee in March 2016. In a public meeting, Kruger gave plausible but untrue rationale for his subordinate's conduct. Justice advocate Joseph Walsh reported "The entire set up of the hearing was not good. The police officer who grabbed the camera did not show up and his union rep was allowed to testify for him. He got 30 minutes, Kruger got 40 minutes and we got 1." Community members' dissatisfaction was palpable.
By a vote of 5-2, civilian volunteers at CRC sustained the copwatcher's complaint; they offered the only remedy available to them: CRC recommended then-Chief O'Dea discipline Groshong. The meeting ended in uproar when Charles Johnson, of Jewish heritage and a long-time police accountability activist, splashed water on one of the CRC pair who had found Kruger credible. After dousing former DA James V. Young, Johnson attempted to surrender to Kruger.
Kruger filed complaint in March 2016. The tear-gassing face grabber objected to "discourteous treatment." Machinations within the Chief's clandestine PRB are supposed to be kept from public disclosure: Reeve, now Portland City Attorney, secured services of Jill Goldsmith, Resolutions Northwest, to draft condemnation of Severe and depict Kruger as harmed. In April, O'Dea used the CRC incident to pull PPB officers from participation in civilian oversight generally. Attendance would be "violating the City of Portland human resources administrative rules" prohibiting harassment, discrimination and retaliation, he claimed. Cops asserted a Nazi aficionado required protection from conduct he himself had widely engaged in, to egregious degree. A serving DA took up Johnson's case.
Auditor Mary Hull Caballero lauded her employee in September, for "alerting [CRC] and the public that improper conduct had occurred during the internal Police Review Board." Despite this, Portland's current Mayor Edward Tevis Wheeler this month mis-characterized public repudiation of Kruger falsehood – as ongoing "criminal activity" having occurred at a Community Oversight Advisory Board – to justify excising that body from the City's plea deal to eliminate illegal use of force. Kruger's chaotic influence dovetailed with City assertion that the public should be sidelined in oversight of police reform. (See Sheltering White Supremacy in Portland Policing.)
Kruger's 2003 victims used the portion of their settlement not reimbursing legal fees to establish a Northwest Constitutional Rights Center. It's ironic that attorney Graf's introductory statement, that "The mayor and the city council have basically advocated irresponsibility, which is why [we've] put together a private, non-profit organization which will do the work that city council is supposed to do," was reported out on today's date, fourteen years ago.
Funds exhausted, NWCRC closed its office in 2008. Kruger's influence, and that of now-City Attorney Tracy Reeve remains, however. In the interim, PPB sniper Ron Frashour executed unarmed Aaron Campbell during a January 2010 check on the African American father's welfare. The City admitted no culpability in settling a wrongful death civil suit with his heirs for $1,200,000. In October 2012, the City made Frashour whole: they reinstated the once-fired officer, and compensated him with nearly two years of back pay. It is not only in Arizona and Oregon where local municipalities pass these costs on to taxpayers … while refusing to rid civilians of abject civil rights violators in law enforcement. What other evidence of White supremacy in local policing does City Hall keep from us? Who was Kruger's mentor in 2010-2011?
See also Rose City Antifa 2010 Statement on Kruger.