"We had [City of Portland Police Chief Larry O'Dea] shoot someone and we didn't have a city investigation for a month," observed a city manager today. He is responsible for reviewing cop co-workers' misconduct. The then-serving Mayor, as Police Commissioner, aligned with police administrators and conspired to hide malfeasance. As the city simultaneously took legal action in US District Court, to block rather than comply with a 2012 Federal Agreement, to eliminate illegal use of force by police.
No local politicians suggested an errant Chief be placed on leave, after the story broke in 2016. A 'hands-off' stance by civil authority gave clear signal to command staff and rank-and-file cops with a long history of complete exoneration following summary execution of unarmed persons. Cops are right now paying attention to similar messaging, due out tomorrow.
Commissioners were predisposed toward justice subversion that was soon to arrive from the Trump administration. On 31 March, US Attorney General Jefferson Beauregard Sessions – denied a judgeship by the US Senate for his racist views – notified the City of Portland "It is not the responsibility of the federal government to manage non-federal law enforcement agencies."
In April, Sessions manufactured "grave concerns" for policing. He legally contested an Obama-era Consent Decree, to address excessive force and patterns of unconstitutional treatment of Baltimore's Black residents. Mayor Catherine E. Pugh was clear: "Our goal is a stronger police department that fights crime while it serves and protects the civil and constitutional rights of our residents." She asked a federal court that there be no delay for Sessions' review of intended reforms. And prevailed.
Not so, in the Whitest city of its size. By the end of July, when President Trump called for rough treatment of presumed innocents in police custody, Portland's Mayor Ted Wheeler was completely on board with plans to retard police reform. He also ran a clandestine selection process for a replacement Chief: at her initial press conference, his chosen collaborator announced, "I don't want to say reform." (Even though Portland's Obama-era Agreement describes "ongoing reform processes" at the outset, in legal provisions.)
Following that pronouncement, the Mayor hosted Chief Outlaw in 'community conversation' at City Hall. Our public space was segregated from general attendance: it was open only to people invited by the millionaire politician. This is particularly telling, as the elitist was also far along with plans to specifically subvert community engagement provisions in the city's 2012 plea deal. (See DoJ Nov. 2016 declaration of non-compliance, pg. 114.)
Tomorrow, Portland City Council, having taken its cue from White House racists, will allow the community to testify, in 180-second bursts, on Wheeler's plan to swap out a federally mandated Community Oversight Advisory Board (COAB), and personally confiscate public participation in oversight of their plea deal. I offer a racial justice analysis of the plan at Sheltering White Supremacy in Portland, Oregon Policing.
But it is important to see Wheeler's subversion of community engagement in broader governing context. The one-time investment banker and former Oregon Treasurer led Council in July to remove civil oversight from police spending. Consulting contracts valued at less than $500,000 no longer require Council approval. In 2012, police falsely depicted a no-bid contract extension to Dr. David M. Corey – for pre-hire psych evaluation of candidate police officers – as payment of past due invoices. We know Corey's nearly 20-year job performance does not weed out those who value deception, that his screening helps engender a police culture prone to violence. There will be no further public influence on the role of this culture reinforcer.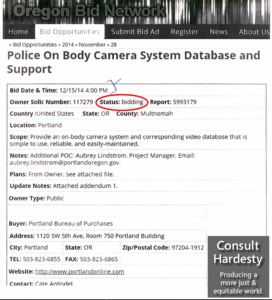 Police gave false testimony in 2014, pretending a million-dollar contract for body worn cameras was merely a 'request for proposals.' (See image, right.) Cops lie. People die.
Wheeler intends broad-based abdication of police oversight. It required nearly 2 ½ years to fire an officer who (purportedly) mistook shotgun shells for less-often-lethal rounds, and grievously wounded a suspect. It took a month for Wheeler and Council to approve $4,000,000 (a tenfold increase) in contracting for live-round ammunition. Spending on non-lethal training received no budget increase, or particular attention from the Mayor/Police Commissioner. The underpinning rationale, in an era of police militarization? Cops now operate three gun ranges; they'll fire a lot more ammunition. You might discern that the public had no influence over this procurement process.
The Obama-era DoJ Civil Rights Division called Portland's a "self-defeating accountability system." (Findings, pg. 27.) The observation was to condemn city facilitation of law enforcement's self-exoneration scheme. But it also describes an institutional "wall" designed to thwart public influence in hiring, at the Training Unit, in police policy development and in curbing nearly perpetual budget overruns by the police bureau. It's not by accident that the Mayor now proposes to disestablish community-based oversight of policing: it is straight-line continuation of patterns and practices which engendered constituents' need for Federal protection against constitutional violations.
Police wounded dozens waiting to testify in City Hall last October. On a premature contract extension with the Portland Police Association: $10,000,000 in salary and bounty sweeteners, negotiated behind closed doors. In March, police rioted in the streets after Council shut its doors and refused to brook dissent following exoneration of a repeat-offending, veteran officer who had claimed a second life. (See McCray's Portland-specific, national reporting: Can Protesting Trump Inspire White Awareness About Racially Biased Policing?)
While COAB and Our Human Rights Commission's Community Police Relations Committee are suppressed by fiat, Wheeler experiments with legitimizing suppression of free speech before Council. And, all the while, in the background, stands an unheeded agreement that was supposed to bring transparency to police policy proposals, extend opportunity for reasoned and informed debate, and route community concerns to police command staff and civil authority. That is to be sacrificed on Thursday; in favor of a small band of city partisans, hand-picked by perpetrators, and meeting half-time in secret. They are to take up a confined role in the year following intense indoctrination by the City Attorney.
The thing is, holding hands with Trump's racism and exhortation to violence is not something that can be easily uncoupled. Such a political union threatens constituents with real risk, following the anticipated Presidential pardon of Pima Maricopa County Sheriff Joseph Michael Arpaio. Leaders in 'progressive' Portland, with no history of holding police accountable for racism or illegal use of force, will reap the police misconduct which accrues from a general lack of law enforcement in policing. As local authority unravels oversight of police reform, police officers undoubtedly sense their excesses will be tolerated in a general, permission-giving environment. Conditions not extended to police accountability activists.